If you live in Vancouver, you must be familiar with the infestation of Chafer Beetles that are destroying lawns throughout the area.  Synthetic turf represents your best defence against chafer beetles. At SYNLawn West Coast we have seen the damage and resolved the situation for many home owners.  We are professional, experienced and effective getting rid of this infestation one yard at a time.  You, the home owner don't need to go through the tedious, time sensitive process of eliminating these pests when you hire us.  Within hours the problem is gone and you are left with years of beautiful green natural-looking grass to enjoy.
Though generally only about 1.5 cm in length, the chafer beetle will rapidly multiply and become a serious problem destroying your lawn, then your neighbours and so on and so on.  This problem has been escalating for years.  Be the smart home owner and get rid of the problem once and for all.  You will be the envy of the neighbourhood.
Chafer Beetles feed on plants, including the natural grass and its' root system.  Most home owners affected by the influx of these pests generally opt for natural or chemical treatments; all of which can be costly and time consuming while not necessarily acting as a permanent solution, and not environmentally friendly.
When you hire us we come in, remove the contaminated soil that has eggs of the chafer beetle which, if not eliminated will hatch and continue to spread over and over again.  We will prepare the ground and lay down the synthetic grass of your choice that looks like natural grass.  SYNLawn synthetic turf is impermeable to Chafer Beetles. These pests depend on natural grass for their sustenance, and without it they can't survive. Poof! Problem solved.
The installation of our synthetic grass, which is already a cost-saving product on a variety of levels, will save you from the cost of treating your lawn, either naturally through the use of Nematodes or through chemical treatments, as well as the cost of replacing grass, trees, plants or any other part of your yard that is susceptible to the Chafer Beetle.
We know that you want a lawn that is as beautiful as the rest of your home, and a lawn left wilted or dead by an influx of Chafer Beetles is demoralizing and costly in a number of ways. Conversely, SYNLawn synthetic grass offers not only an unwelcoming environment for Vancouver's number one pest, but a green and pristine lawn that will maintain its perfection year-round.
Insulate your home from the threat of Chafer Beetles, and gain the lawn you've always dreamed of in the process, by virtue of your very own custom SYNLawn synthetic turf installation.
Go from this….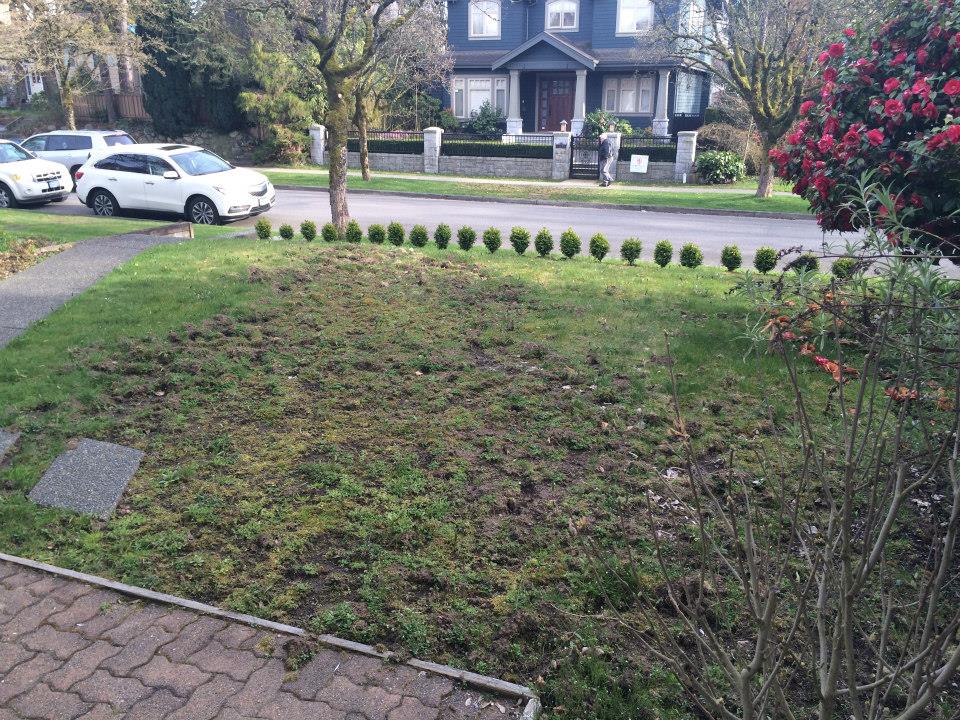 To this…with SYNLawn