Vancouver Synthetic SpeedTurf & TrackTurf Installation Services
Make agility training easier on your athlete's joint with artificial grass
At SYNLawn®, our turf designers heeded the call of athletes demanding a durable, versatile flooring surface that can withstand the rigors, dynamism and explosive energy of their workout sessions. Our Vancouver synthetic turf and artificial grass experts have spent time creating two floor turf applications for gymnasiums, indoor and outdoor tracks, weight rooms, and agility training locations: SpeedTurf™ and TrackTurf™. Both of these products are specifically engineered to absorb impact, decrease common athletic injuries and increase performance levels.
SpeedTurf™ and TrackTurf™ are high-quality synthetic turf products that are suitable for installation in commercial and residential areas. Both applications feature 5mm foam-padded backing that holds up against everyday wear and tear, as well as heavy foot traffic, allowing you to focus on the efficacy of your workouts. The infill beneath the top layer is soft, yet sturdy to give athletes the chance to develop their performance with minimal muscle fatigue and maximum comfort.
As the largest synthetic turf supplier in the U.S., the installers at SYNLawn® work diligently to create premium faux grass turf products that provide a safer workout environment thanks to their high shock absorption capabilities.This means that you can train to your heart's content without fear of injury. TrackTurf™ and SpeedTurf™ can reduce the following types of athletic injuries:
Shin splints
Muscular exhaustion
Upper and lower back fatigue
Various physical aches and pains caused by inadequate shock absorption
Both products offer superior protection against sudden jolts and are available in a selection of different colors
The synthetic fibers are easy to clean and disinfect, which decreases the potential for mold growth and staph infections
SpeedTurf™ and TrackTurf™ are constructed with a distinctive blend of nylon and polyethylene. This combination results in a more forgiving, less abrasive top layer that improves on strength and agility training turf flooring products that are made from only nylon. This polyethylene/nylon blend reduces friction, creating an ideal surface for strenuous workouts with heavy equipment, such as sleds and other weight- and cross-training equipment.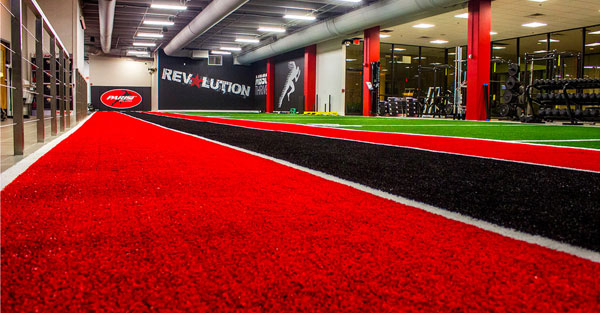 Our state-of-the-art lawn turf applications leave the ugly fake grass products of yesteryear far behind! With many years of experience researching and developing products for the artificial lawn turf industry, we have the expertise to create high-quality synthetic applications for a wide variety of different uses, including:
Playground turf for municipal parks, schools and daycare centers
Landscaping turf for homes, offices, casinos, shopping malls, and apartment complexes
Commercial and backyard artificial pet grass turf for dogs and cats
Synthetic grass lawn applications for rooftops, patios and decks
Artificial grass golf greens and putting practice greens for residential and commercial spaces
In and around Maple Ridge, Abbotsford, Burnaby, Mission, Richmond, Langley, Surrey, and Vancouver, our synthetic turf products are loved by both amateur and professional athletes! If you would like to learn more about TrackTurf™ and SpeedTurf™, please call SYNLawn® at 778-999-6492 or 778-246-2210 today for further details. Alternatively, you can contact us online for a FREE turf installation consultation! Our artificial lawns, agility training and track turf, golf putting practice greens, and synthetic dog grass turf runs are 100 percent recyclable.