Artificial Grass Installation for Vancouver Homes
Synthetic Lawn Is The Perfect Upgrade For Your Home in Vancouver
For many years, we have specialized in creating beautiful outdoor spaces for our Vancouver synthetic lawn clients. Make your lawn the envy of your friends and neighbors when you choose an artificial grass installation from SYNLawn!
It's time to enjoy a perfectly manicured yard year-round. Add beauty to your home with the durability of our synthetic turf products. Our synthetic lawn is the perfect touch for landscapes, decks, patios, backyard putting greens, playground grass, dog runs, and more! Plus, our artificial turf is safe for every member of the family, including your pets! We offer custom designs for your synthetic grass installation that will leave you thrilled!
Let's cut to the chase - this is not the fake grass of days gone by! You'll be amazed at how realistic our synthetic lawns look and feel. Plus, each SYNLawn installation means your lawn will retain the look of perfection year-round!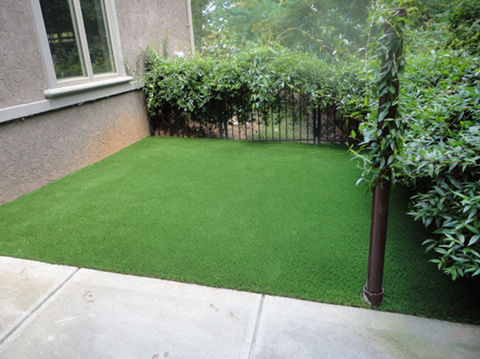 SYNLawn Residential Turf Benefits Include But Are Not Limited To:
SYNLawn Offers Warranties Up to 15 Years
Artificial Turf Cuts Down Water Use by 60%
Each SYNLawn Installation Reduce Your Carbon Footprint
SYNLawn Turf is 100% Recyclable
Saves You the Time and Money to Start Enjoying Life
Versatile Turf Is Perfect for Countless Installation Purposes
SYNLawn Offers Custom Designs Tailored to Your Vision and Space
Professionals Get Your Installation Done Fast
Artificial Grass contains UV protection and HeatBlock™ Technology
Synthetic Turf Reduces Harmful Allergens and Pollens
SYNLawn Grass Naturally Deters Pests and Rodents
Find out more about the benefits of synthetic grass for your Vancouver home.
SYNLawn's Artificial Turf Pays for Itself!
SYNLawn has always strived to provide homeowners with products that offer the very best return on their investment. A synthetic lawn that makes you the envy of the neighborhood while paying for itself over time accomplishes that goal.
Upgrade your home's outdoor space with your very own SYNLawn synthetic grass installation. Not only will you increase your property value, but you will also allow yourself more time to enjoy what you already have!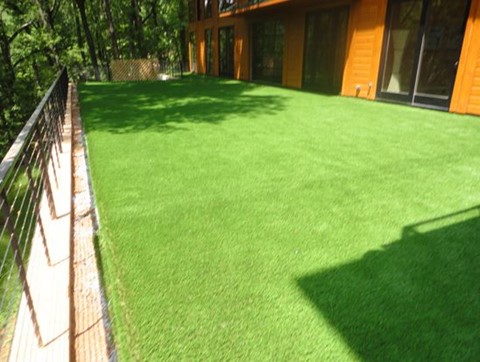 Common Questions About Artificial Grass
How do I clean artificial grass?
The easy maintenance of artificial grass is one of the biggest benefits of installing a synthetic lawn in your Vancouver home. When you notice a build-up of debris, you can easily remove it with a leaf blower or plastic rake.
You can also rinse your synthetic lawn with a hose or sprinkler system to help remove dust and small particles. For spills or stains, you can gently spot-clean the area with a mild detergent and brush.
Can you vacuum artificial grass?
You should not use a vacuum on your artificial grass. Using an ordinary household vacuum on synthetic turf can damage the fibers and remove the infill beneath the grass layer.
You may however find a specialized vacuum specifically designed for artificial grass. These vacuums feature soft bristles and gentle suction to effectively clean your synthetic grass while avoiding damage. They're great for removing dust, debris, and pet hair from your turf.
However, we still recommend a leaf blower or rake as the best option to maintain your artificial lawn.
What goes under artificial grass?
There are a few layers of materials that are installed underneath your new turf. Each one is essential to your residential artificial turf performance. We start with an edging material that is laid at the bottom of the surface we plan to install the artificial grass.
After we lay the edging material, we move on to install the base layer which is typically made of a compacted aggregated stone or gravel. This allows water to drain through your new grass with ease.
Next, we lay a geotextile weed barrier on top of the base layer to prevent weeds from growing through your new synthetic lawn.
Last but not least, we install your new artificial grass with the appropriate infill to provide maximum performance.
What is artificial grass made of?
Artificial grass consists of synthetic fibers made from either polyethylene or polypropylene. This helps achieve a realistic look for your new artificial lawn.
What is the best artificial grass for dogs?
We recommend our pet turf from SYNLawn Vancouver. Our pet turf is designed to withstand any ruff play from your favorite fur babies. Our pet turf is durable, temperature controlled, and can repel odors from consistent use. 
Can you drive on artificial grass?
 While all our artificial grass products are quite durable, they are not designed for regular vehicular traffic. You can occasionally drive light vehicles across the surface, but we recommend you avoid driving or parking heavy vehicles through your artificial grass. 
Contact SYNLawn Today for a Free Quote on Your Installation!
For the best artificial grass in Canada has to offer or to learn more about synthetic turf, give SYNLawn Vancouver a call today. An expert can answer any questions you may have. Plus, SYNLawn offers free quotes on every project and can help guide you every step of the way!
What are you waiting for? Get started getting the backyard of your dreams today and give SYNLawn a call at (778) 999-6492.