Playground Turf in Vancouver, BC
Our artificial grass is a great solution for playgrounds, providing a safe and easy-to-maintain surface for children to enjoy!
In Vancouver, our playground systems are making believers of parents who want a safe surface on which their children can play. SYNLawn® playground turf provides a cost efficient and durable surface for commercial/residential landscaping customers who are in the process of installing play areas. Natural grass playgrounds become worn down over time, and when they do the children playing on them become more susceptible to injury. SYNLawn artificial grass, on the other hand, has been created specifically to provide a soft, cushioned surface for children to play.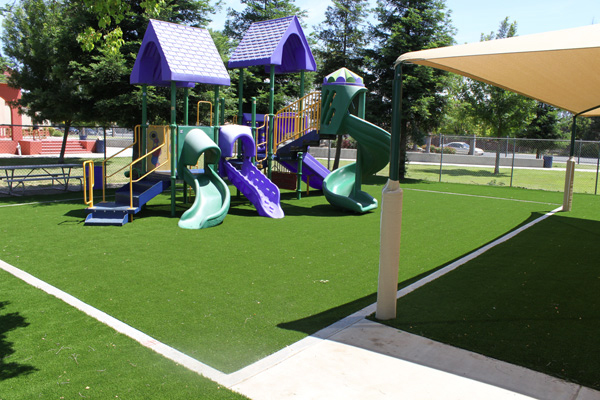 Our synthetic landscaping turf is in accordance with IPEMA standards (International Playground Equipment Manufacturers Association) and CSA approved fall attenuation. This means that children can fall from as high as 12 feet onto our synthetic grass and still expect a soft, safe landing. Choosing our artificial turf for your playground is wise on many levels including:
Our playground systems come with a 100% recycled foam padding underneath each installation
All of our fake grass products are incredibly realistic, durable and maintain their perfect look and feel regardless of weather or heavy foot traffic
No divots, holes, rocks, bald spots or other surface conditions that may cause injury as a result of our TrampleZone package
IPEMA Approved Installation System (International Playground Equipment Manufacturer Association)
No dirt, grass or mud stains
Non-allergenic turf for those with grass allergies
Specifically designed to maintain cooler surface temperatures even on the hottest days
Drainage rate of 30" per hour helps to keep surfaces dry
ASTM HIC & GMAX Compliance and Testing
No watering, mowing or fertilizing allows those in charge of maintaining children's play areas to minimize maintenance and upkeep costs
Lasts up to 50% longer than other synthetic grass applications
wheelchair and stroller accessable
A great deal of research has gone into the creation of our playground grass; a fact that is certain to reassure parents everywhere. SYNLawn believes that every child should be able to run and play in complete safety, and our playground turf is the surface on which to do so.