Putting Green Installation
Backyard Putting Green Installations in Vancouver
Backyard Synthetic Golf Green Installations In Vancouver
Enjoy top-of-the-line Vancouver putting greens in the comfort of your own backyard thanks to SYNLawn. Our company makes backyard and indoor golf greens that perform just like the grass at your favorite golf course. Our synthetic grass looks, feels and plays just like the real thing. Trust SYNLawn to give you the gift this ultra-convenient way to improve your putting and finally master your chipping without ever leaving the house.

High Performance, Low Maintenance
SYNLawn turf has been developed with the help of professional golfer, Dave Pelz, to create a golf system that performs just as well as natural grass. SYNLawn putting greens offer natural ball roll and bounce so you can work on accuracy and perfect your game. When it comes to experts like Dave Pelz, they don't settle for mediocre! Neither should you. When you choose SYNLawn, you are choosing turf that is trusted built and used by professionals.
With synthetic turf, you can eliminate the maintenance and care that comes with real grass. No more watering or waiting for puddles to drain after a rainstorm. It's always game time, regardless of the recent weather. Our dependable putting greens feature optimal drainage systems so they can withstand heavy use and extreme weather with ease. If you're ready for a fun, low-maintenance solution to backyard putting, choose SYNLawn!
Designed & Installed by Experts
Our artificial putting greens are available for both residential and commercial applications throughout Vancouver, which makes it easier than ever to practice the game you love! Our team of experts can help you find a solution that works with available space, practice needs and budget.
Both big and small synthetic grass putting greens for Vancouver residents are available with SYNLawn!
SYNLawn services include but are not limited to: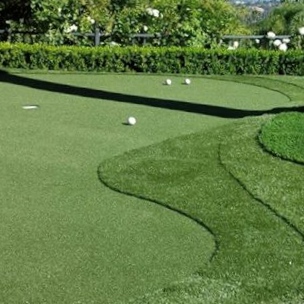 Customized Landscaping Designs for Residential and Commercial Golf Greens
High-Performance Surfaces Indistinguishable from Natural Golf Grass
Customized Fairway, Fringe and Collar Turf
Accurate, Long-Lasting Commercial Tee Lines
Are you ready to discover the freedom that comes along with a backyard putting green installation? Give SYNLawn a call today. Your wallet and your golf game will thank you! SYNLawn Vancouver has made the dream of having your very own practice green at home an affordable and practical proposition.
Indulge your love of golf as never before with a custom putting green from SYNLawn. When you choose synthetic grass from SYNLawn, you're choosing so much more than artificial putting greens. You're choosing a great way to save time and money. You're also building your skills as an athlete and providing hours of entertainment for friends and family. Interested in learning more about SYNLawn putting greens? Contact a member of our team today for an estimate today!