Crows on grass are feasting on chafer grubs which are eating the roots of grass and killing lawns throughout the lower mainland.
There is nothing more frustrating than seeing your beautiful lawn become a lumpy, brown patch of dead grass with a dozen crows feasting on whatever is beneath.  No fault of your own but before you even realize what happened you have been victimized by chafer grubs.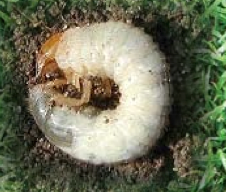 The crows on grass all over the Vancouver area are actually a good thing!  They are feasting on the thousands of grubs that eat away at the roots of natural grass.  Each grub will develop into a chafer beetle around May/June, mate and then will lay eggs in grass to repeat the cycle.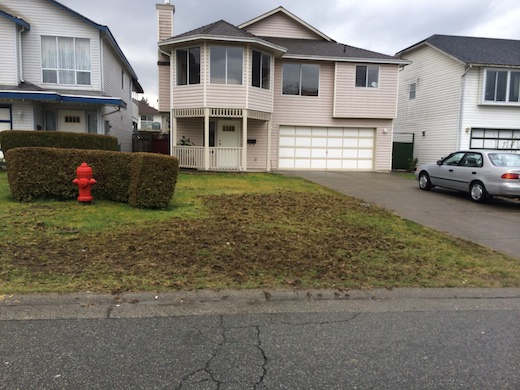 Despite claims that you can resolve this problem by patting or stamping down the turf and re-seeding (The Vancouver Sun blog post) the fact is just one beetle laying eggs in your neighbourhood can begin the cycle all over.  Eradicating the chafer beetle completely is the only solution and that is not happening any time soon!
SYNLawn® has a natural solution, at least natural in the sense that our synthetic turf is Earth Friendly, Pet Friendly and Water Friendly. SYNLawn® is green on top, in the middle and even underneath.  We go a long way to provide products that have an extended lifespan, reduce carbon emissions, conserve water while using renewable and recycled materials.  Our artificial grass looks natural!
The chafer beetle problem is not going away and despite many articles recommending nematodes as a cure this is not a long term solution.  Proper lawn care requires excessive watering at just the right time of the year (usually when there are water restrictions in place) in June/July.  The chafer beetle did not arrive in Vancouver in droves.  The problem has been escalating over years as a result of reproduction.  One beetle = many grubs.
If your front or back yard look like the picture below then your lawn has chafer beetle grubs that have been feasting on the roots of your grass which in turn attracts the crows to feast on the grubs.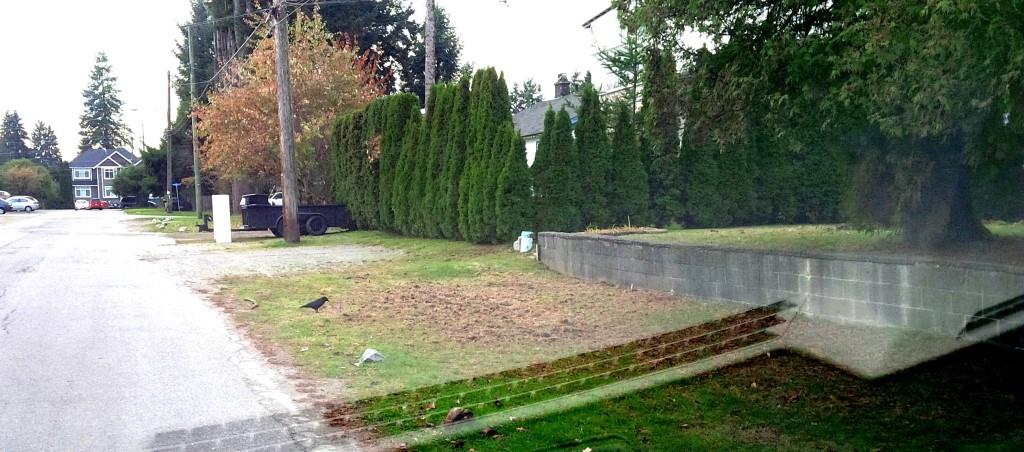 Chafer beetles will continue to lay eggs.  The problem will just multiply until we remove them and eliminate their nutritional source (roots of grass).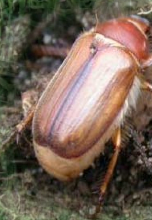 The SYNLawn® solution to chafer beetle damage to natural lawns in Vancouver, BC is to remove the culprit and create an undesirable habitat.  Eliminating the food source that chafer grubs thrive on allows you, the home-owner the peace of mind you will consistently have a green landscape with no pests below.
The invasive European Chafer beetle was unknowingly brought over in a crate of flowers from Europe and has now spread rapidly across Canada, tearing up gardens and turf. "This is old news to most homeowners – chafers have been with us for the past 14 years – but there are still many people who apparently do not know what is going on," wrote the Vancouver Sun in a recent blog.
Chafer beetle grubs feed on the roots of all types of plants, including the roots of turf and grass, leaving massive destruction in their wake despite their small size. Because of their short life span, they reproduce rapidly and are able to spread from lawn to lawn. Raccoons, birds and skunks amplify the damage by further digging up the grass in search of Chafer grubs.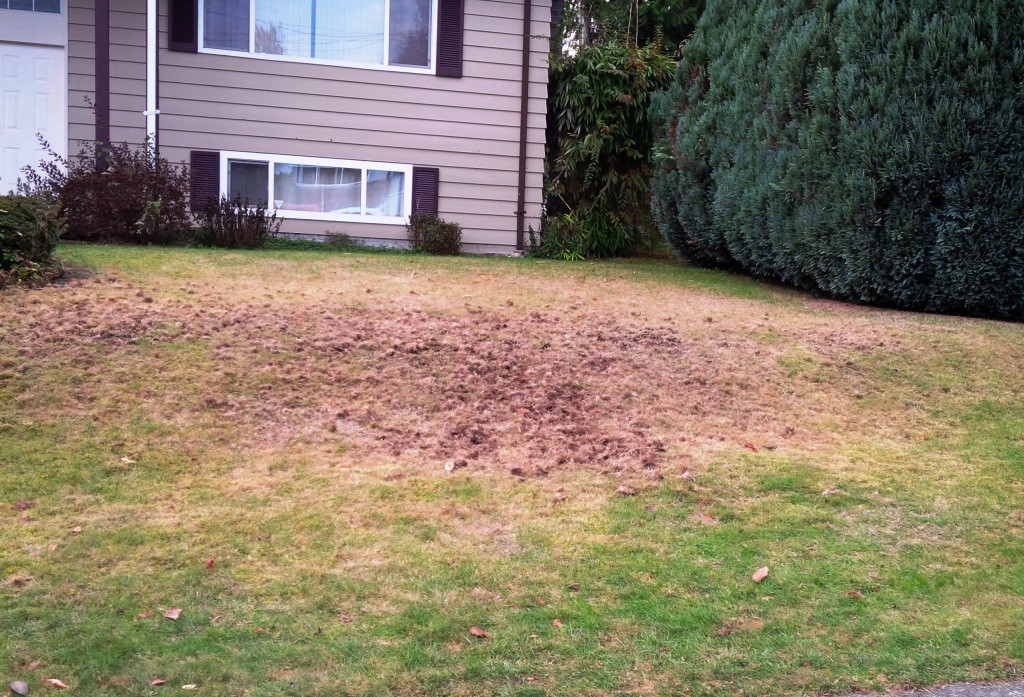 Since pesticides are not an option for the environmentally conscious, finding an all-natural solution for the infestation has proved impossible for local authorities. According to the Vancouver Sun, "Insecticides are ineffective. They are also banned by most municipalities and landscapers won't use stronger pesticides because they are only of short-term value and their risks to pets and children are unpredictable". Proper lawn care is only a preventative effort that can build stronger roots to withstand the grubs and nematode applications have to be applied at precisely the right time of summer and have varied effectiveness.
The best long-term solution is to have an expert remove all the contaminated soil and replace it with an environmentally friendly artificial turf that does not require heavy watering or pesticides.
"Not only can SYNLawn® permanently solve your chafer beetle infestation, we can also provide a realistic alternative that looks and feels like grass," said Chris Berry with SYNLawn Vancouver. "It offers significant utility and maintenance bill savings, meets and exceeds all safety standards and most importantly allows you the venue and time to spend with friends and family."
All of SYNLawn's grass products are 100% recyclable and completely safe for family members and pets alike to relax and play on. SYNLawn® provides not only a permanent Chafer solution but also a lifestyle solution. As Wendy MacKay with SYNLawn® Vancouver said, "This is the best and most permanent solution for keeping our city looking green, yards beautiful and natural looking, and saves water and helps our environment.".
Sounds like SYNLawn® will be keeping Vancouver green in more ways than one.
ABOUT SYNLawn®
SYNLawn® is the industry innovator on synthetic grass. Their lush and livable synthetic grass systems have transformed the way synthetic grass is used, producing the most advanced and performance oriented putting surfaces and synthetic landscaping solutions in the market. SYNLawn® uses exclusive nylon technologies to produce unmatched solutions for synthetic landscape, golf, pet and playground systems. SYNLawn's grass products are 100% recyclable and lead compliant. As a vertically integrated manufacturer/installer, SYNLawn® delivers customers the highest quality artificial grass products at a competitive price with the most genuine and longest manufacturer warranty of 15 years. With the company's continued expansion, SYNLawn® has 59 Distributors in the United States and Canada. To learn more visit www.SYNLawn.ca and CONTACT: Mike Holdenried @250-765-7952 or mholdenried@synlawn.ca or if you have a problem with chafer beetle in the Vancouver area and would like a free quote enter your name and phone # by clicking  onto  the FREE CONSULTATION box on our Home page.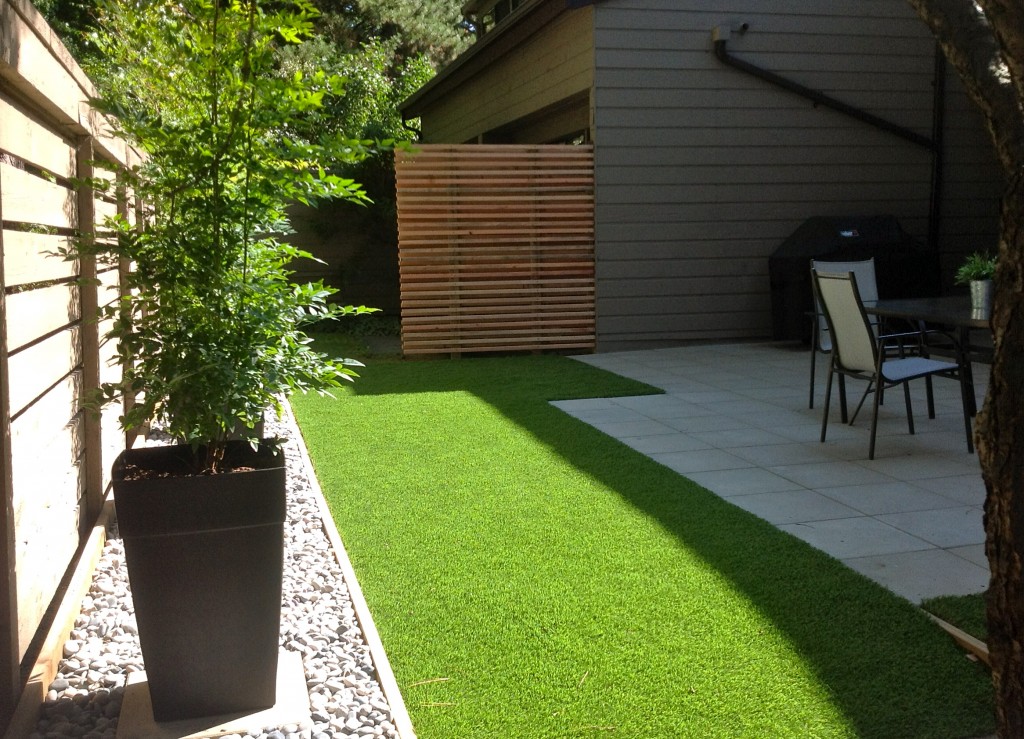 Whether you have chafer beetle damage or 'dog damage' from urine rings, digging and high traffic synthetic grass won't show the wear and tear that natural grass does.
Wouldn't you rather have a lawn like this?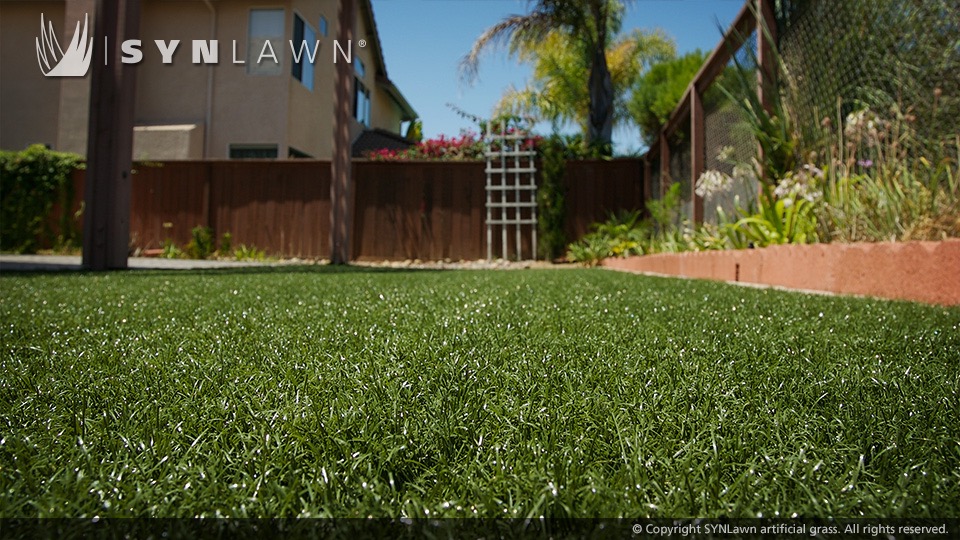 Submit your information in our form on the right hand side of the page to receive a no-obligation estimate or give us a call at 778-999-6492 or 778-246-2210 today.