This Spring has been exceptionally warm breaking records all over British Columbia and it seems we are in for a hot summer too.  Water restrictions are already in effect throughout the province.  With forest fires burning out of control we all need to be diligent in caring for our environment.  Global warming affects us all!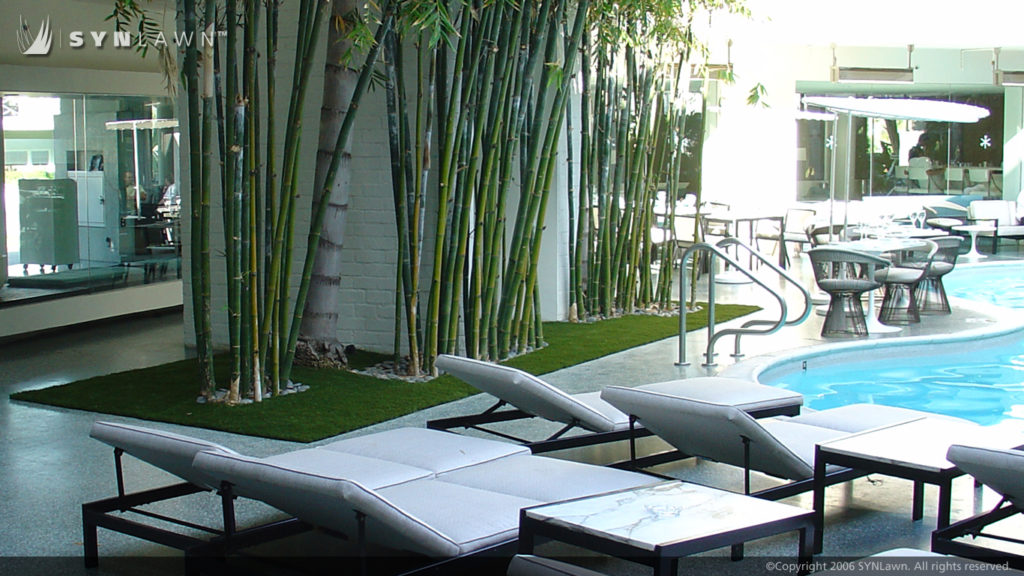 I am sure most of us would like nothing better to do than laze by the pool relaxing this summer.  Having to mow the grass on your day off, in the heat is not fun.  That is assuming the grass has not burnt to a crisp under the sun with a lack of water.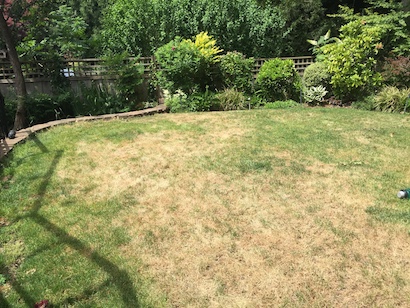 SYNLawn® artificial turf has an exclusive HeatBloc™ technology that will keep your tootsies cool by reducing temperatures up to 20%.  We can also boast that we are the only synthetic grass company with a Class A fire rating.
If you are fortunate to relax by the pool with a SYNLawn® synthetic grass system you are assured of a non-slip surface that is safer than tile or concrete.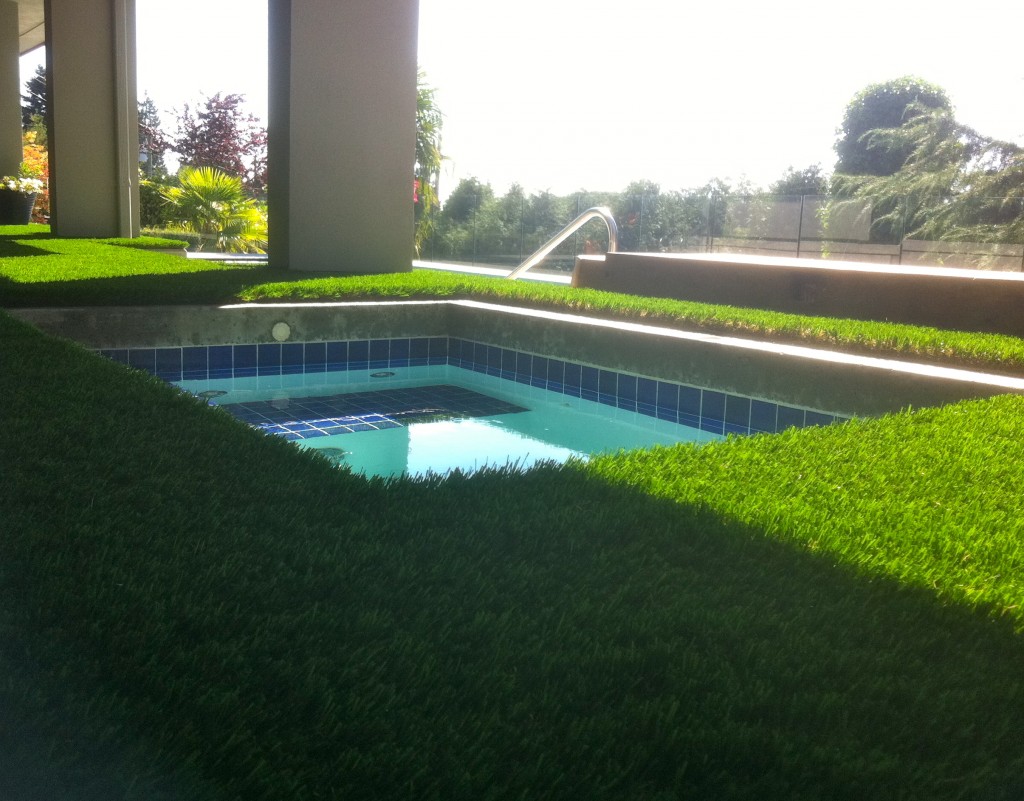 The fake grass also helps eliminate sand or gravel in the pool area!
No yard – no problem!  We install on all kinds of decks, rooftops and patio's too.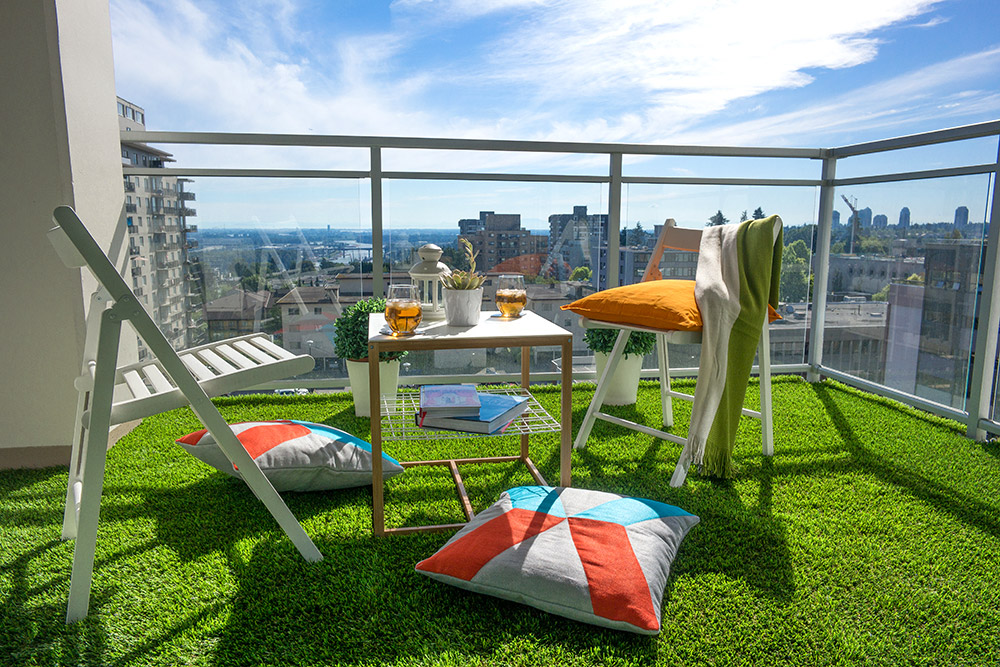 With some hanging baskets, or maybe even a herb garden, an umbrella and patio furniture you can create your own backyard playground.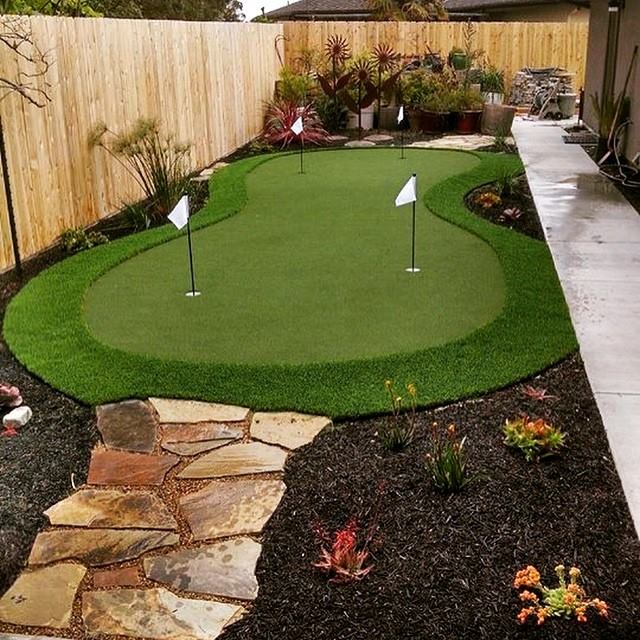 And…for the ambitious golfer in the family we design backyard putting greens that would challenge any pro golfer.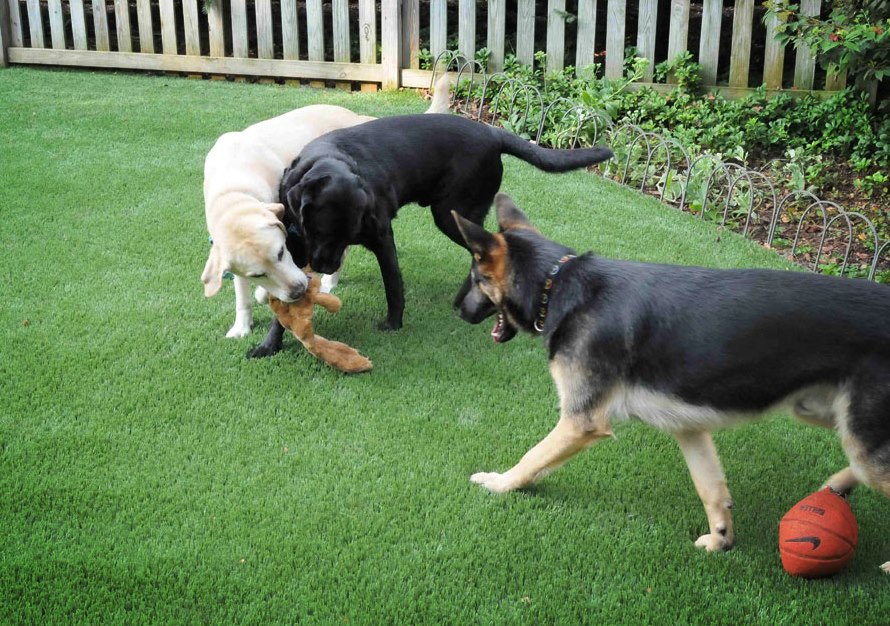 Even Fido stays cooler and cleaner with a SYNLawn® pet system.  Pet owners who install our synthetic grass rave about how much easier it is to maintain.  Easy clean-up, no more holes dug in the grass, and less fleas, ticks or even spiders.
Our professionally trained installers are in and out quickly.  They are efficient, courteous and tidy.  With the best warranty in the synthetic grass industry you can rest assured knowing we back our service with quality.
Got kids?  The importance of safety is always a priority and with our soft padding installed under the grass any fall is safer.  The artificial grass is also non-abrasive so less scrapes, cuts or bruises.  with properly installed grounds and efficient drainage SYNLawn drains at a rate of 6″ per hour.  No puddles – no mess.  ASTM tested and IPEMA certified.  Easy access for strollers and wheelchairs too!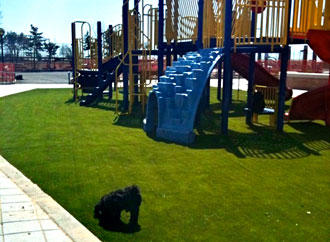 With SYNLawn® you receive quality, quality product and quality service we stand behind.  We are not the cheapest in the market for a reason.  We are here for the long haul and proud of it.  If you appreciate good quality and efficiency please give us a call today.  We would be happy to answer your questions, provide a free consultation and help you save water this summer.
Call 778-246-2210 or if out of the Vancouver area call 1-866-758-7888.  You can also email us @ mchatwell@synlawn.ca
Be cool, relaxed and enjoy many summers to come with a new SYNLawn® synthetic grass system that saves time, money and most important – water.