Vancouver, British Columbia is a beautiful city! We have such diversity in our landscape with the coastal mountain range, Pacific ocean, lakes, streams, rivers, and 4 seasons of fantastic weather.
At SYNLawn Vancouver we are proud to represent a company that is not only 'earth friendly', 'water friendly' and 'pet friendly' but enhances and improves our city.  We're keeping Vancouver beautiful by installing synthetic grass lawns that look like natural grass, but without the work involved to maintain it.  Our colours, textures and designs look like a well manicured lawn. Add a few trees to your landscape to provide shade,  especially during our gorgeous hot summer days and sit back relax and enjoy.
We want to help Vancouver with water conservation, saving on our precious resources while still being green.  We want our citizens to enjoy our city feeling the expansion of outdoors while eliminating carbon emissions and noise pollution from lawn equipment.
We literally save millions of litres of water each year with our artificial grass.
We keep fertilizers and pesticides out of our environment and ground water supply.
We help reduce carbon emission and fuel consumption of lawn equipment.
We offer superior playground applications, pet systems, golf putting greens, full landscape options, rooftop deck patio greenery and much more.
We are NOT what many expect. Synthetic grass has come a long way with technology.  It looks and feels like natural grass.
Help us help Vancouver be green.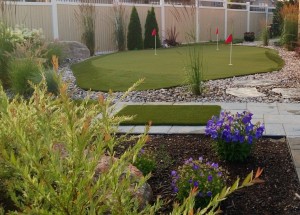 Whether you are a home owner, renter or commercial resident the more informed you are the better decisions you can make.  We would be happy to discuss with you the options for your particular application and how we can improve the look of your property.
If you fill in the free consultation box on our website we will give you a call and answer your questions and/or come over and give you a quote.