Artificial Grass Vancouver
Get a lush, green lawn or backyard putting green all year-round with SYNLawn artificial grass. Contact us for a free design and installation estimate.
Our Vancouver artificial grass installations fit right in line with Vancouver's plan to become the greenest city by 2020. SYNLawn® is the leading synthetic grass producer and installer in North America with more than four decades' worth of research and development. SYNLawn's systems can be found in a variety of applications, including artificial lawn applications, backyard putting greens, rooftop decks, commercial landscape, and much more. A far cry from the plastic, bright synthetic turf of yesteryear, SYNLawn's artificial grass is the most durable, natural-looking, softest landscaping product in Vancouver. Our synthetic lawns, deck applications and golf greens look perfect year-round while reducing water consumption and saving the time and money normally spent on lawn maintenance. Join the many residents of British Columbia who have seen fit to go green and upgrade their outdoor aesthetic with the help of our world-class artificial turf.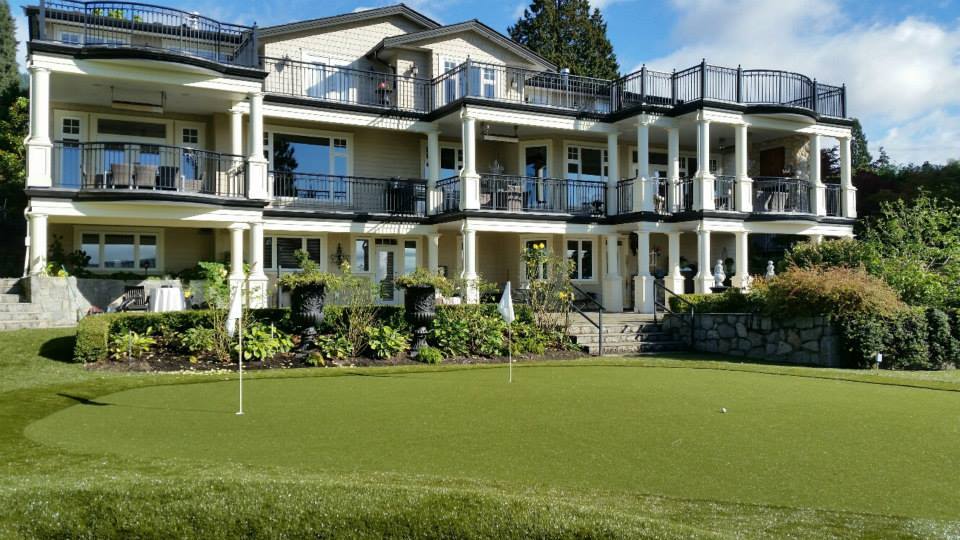 Our artificial lawns bring beauty and realism to any setting, and our products are available in a number of applications depending on your needs. These include:
Residential landscaping with synthetic lawns
Commercial landscaping turf for boulevards, medians and more
Backyard putting greens and pool surrounds
Indoor golf greens for the man cave
Pet runs that will keep your dog cooler, cleaner and happier
Safer Playgrounds that are also wheelchair accessible
Rooftops, decks and patios
Agility and track surfaces for maximum athletic performance
Each of our Vancouver artificial grass installations is a unique, custom design, with custom-ordered turf and specific dye lots. We will work closely with you in order to gain a feel for your tastes and your vision for the project. Our mission is to work with you and for you, designing and creating a product that allows you to relax and enjoy your space while providing a better return on your property investment.Contact us online or call (778) 999-6492 and get a free design consultation today!