Global warming is happening and unless everyone begins taking drought preparedness seriously we will be too late.  California is experiencing the effects of drought and are now taking precautionary measures (see what they are doing). Here, in British Columbia the time to be pro-active is now, not tomorrow.  SYNLawn is leading the synthetic grass industry with quality and performance and we need your assistance in getting the word out.  It's not just a smart alternative to natural grass it is 'THE' best alternative!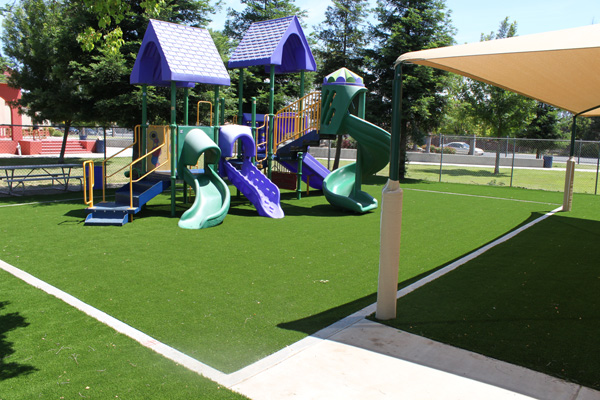 Vancouver wants to make the claim of being a 'green' city and let's face it, it is one of the most beautiful cities in the world but to be green we must think about conservation.  Check out our water saving meter under the 'Conserve Water' tab here.  Synthetic grass literally saves millions of gallons of water daily!  Consider the numerous parks, playground, boulevards, business frontages within the downtown Vancouver area.  Now, expand that and think about the expanding developments in urban areas and how much water is required to keep the grass green and the forests safe.  Artificial turf manufactured by SYNLawn is not the fake grass you may see in the local hardware stores, or the astro turf of years gone by, it is an advanced system that looks like natural grass with an enormous variety to choose from.
Playgrounds are safer, wheelchair accessible, cleaner, and greener with synthetic grass.  It is CSA compliant and lasts up to 50% longer than other synthetic grass products.  We use 100% recycled foam padding in designing playground systems that are safer for falls.  High traffic areas like under the slides can easily be replaced when too worn but in the meantime with a SYNLawn system they have a better, softer landing and don't puddle like you see in most playgrounds.
Pet parks, dog runs, grassy areas along sidewalks and residential yards with pets are cleaner with synthetic grass.  We are all aware of the dogs urine killing grass and creating dead circles that require re-seeding.  With artificial grass you eliminate this problem.  It's great to see so many dogs out for walks on the Vancouver streets but we also see the effects along the sidewalks that the pet traffic leaves.  With warmer weather, water restrictions and high traffic the grass doesn't stand a chance, but with synthetic grass it always looks green!
Dead grass is a fire hazard, is unsightly and can leave a poor impression about the beauty of a city.  Synthetic grass is not only a solution but the best alternative.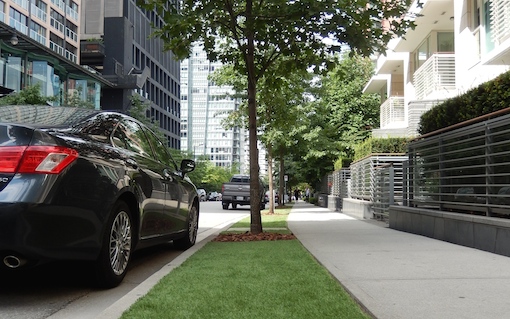 Let's all work together with drougb preparedness and be a pro-active province before drought conditions happen.  We can look green, conserve water and save our environment with synthetic grass.